Focus Mode, released in iOS 15 stable for iPhone owners, focuses on productivity and privacy. When enabled, it will disable notifications and update how you use your phone. If you use focus on iPhone, please refer to below how to turn off focus on iPhone to turn focus mode off.
This new feature is a modification to the Do Not Disturb feature already available on iOS. It allows you to customize and schedule how you receive notifications for calls, messages, and apps throughout your day. So you can focus more on the task at hand and avoid annoying calls, SMS and app alerts.
What is Focus Mode ?
Focus Mode is a feature designed to help iPhone users focus on their tasks. By muting and hiding notifications, messages, phone calls, and other alerts on their device. The focus feature was very basic and used to be called Do Not Disturb mode, but in newer versions of iOS.
Apple added so much complexity to Focus Mode that some users became confused not only about using this feature. In general, but how to turn off focus on iPhone in particular. If any of these features bother you, you can disable Focus permanently or temporarily. Let's check another way how to disable Focus on iPhone.
How To Turn Off Focus Mode On iPhone
If you're an iPhone user, you may have sent an iMessage and received a simple notification in chat that the contact has turned notifications off and you have the option to notify them. In addition, you can also open articles about lock for iPhone apps, to protect your privacy.
If you want to do the same, let's dive into how to turn focus off iPhone ini bellow :
1. Turn Off Focus iPhone Using Control Center
The easiest way to disable focus is to use the iPhone Control Center. To do this, first access the Control Center by swiping down from the top-right corner of your iPhone screen (for iPhone X and later) or up from the button section (for iPhones with a Home button). need to do it.
When Control Center appears, tap the "Focus" Control Center module. If the focus label is not displayed, it will be displayed, for example, as the name of the enabled focus mode. "Do not distrub". Tap to disable the currently active focus routine. The selected routine is disabled on the device.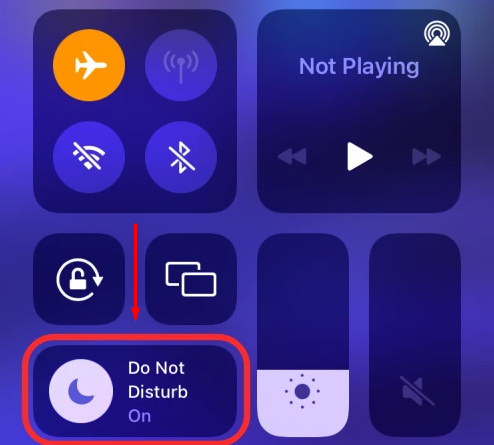 Tap to disable the currently active focus routine.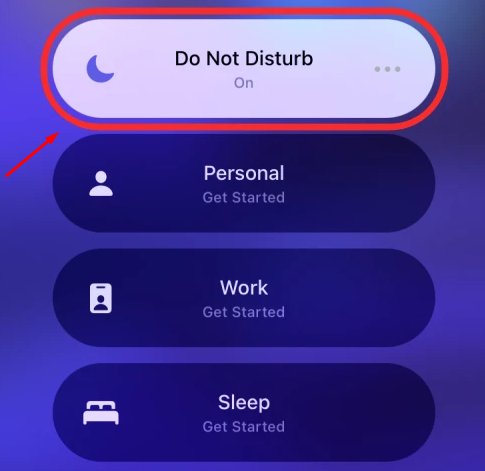 The selected routine is disabled on the device.
2. Turn Off Focus Using Settings
Another way to disable focus on your device is in the iPhone's Settings app. To do this, open the Settings app on iOS and select the Focus section. Within the focus screen, select the focus you want to disable.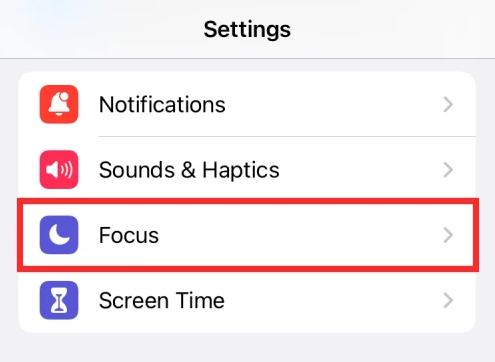 On the next screen, tap the (green) toggle next to the focus name to disable it. If the transition is already greyed out, leave it alone. The selected focus has been disabled.
3. Turn off focus from lock screen
You can also turn off focus from your lock screen. When a Focus is engaged, you will see the icon on your lock screen. Tap on it to expand the Focus Modes and tap on the highlighted Focus you used to turn it off.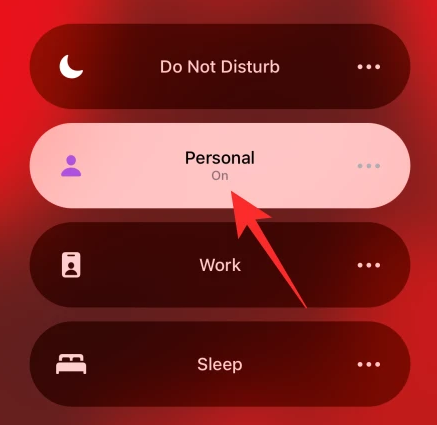 4. The Focus Turned Off Immediately
You can set the focus mode only on certain apps, contacts, etc. Let's check them out :
1. Turn off Focus Sharing
By default, Apple has a universal toggle switch that you can use to enable or disable it on all devices associated with your Apple ID. This means that when you disable a Focus routine on any of your devices, it will turn off the routine on all of your other devices signed in using the same Apple ID. Although this option is enabled by default, you can check if it is still ON on your iOS device by going to Settings > Focus and enabling the "Share Between Devices" toggle.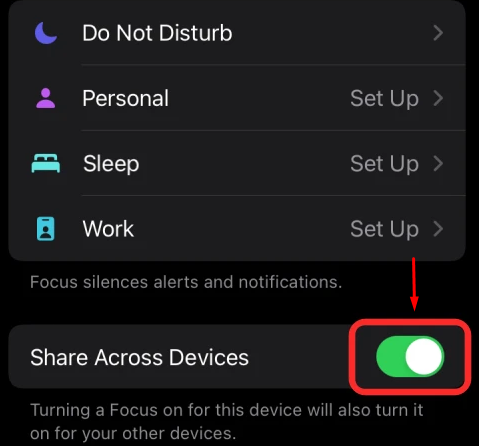 We have prepared a detailed guide on this in the link below. Since our goal here is to keep the 'Share Across Devices' toggle enabled, you can follow all the steps under 'How to restrict focus to only one device' except the last one.
2. Turn The Focus Off For A Specific Person
Apple allows you to customize your Focus routines so that you can always be notified about incoming calls and text messages from a specific contact, even if Focus is active. This is done by whitelisting a person within the selected Focus so that it is added to all "Allowed Contacts" where you can receive alerts even when this routine is activated.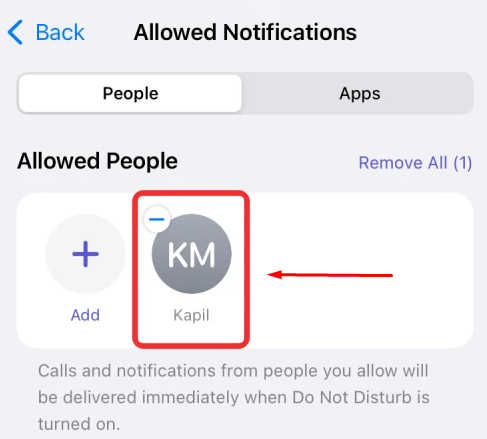 To disable Focus for a contact, follow the steps given in the "Whitelist a contact in Focus mode" section in the post provided in the link below.
3. Turn Off Focus For An App
Similar to whitelisting people while a Focus is active, you can disable a selected Focus for an app while still receiving notifications from that app while the Focus routine is active. You can whitelist all the apps you think are important to receive alerts no matter what situation you are in. For example, messaging apps like WhatsApp, iMessage, and Google Chat should be whitelisted because you can receive urgent texts from close friends. , family or coworkers, and you may need to deal with them as quickly as possible.
4. Turn Off Focus State
Focus Status in iOS 15 is a little quality-of-life feature that can tell your contacts when you turn on Focus. It just tells users that your notifications are not turned on and gives them the option to notify you anyway, ignoring the Focus you have turned on.
However, it may not be the best idea to keep it on for all users, as Focus Status gives your contacts the ability to practically ignore your Focus. To turn Focus State off, go to Settings > Focus > Focus > Focus State > Turn off Share Focus State.
You can also turn off Focus Status for specific people. This allows some people to see your Focus Status while keeping it private for others. Go to Messages app > Tap on Conversation > Tap on Top thumbnail > turn off "Share Focus Status".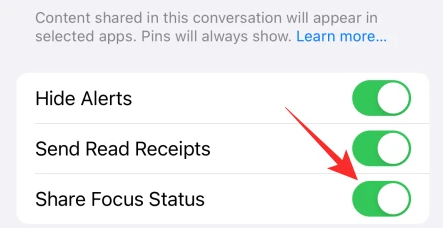 To learn more about Focus State and how it works, you can refer to our detailed Focus State article.
5. Temporarily Turn Focus Off or On
Besides whitelisting apps and contacts, you can also block iOS's Focus app during a certain time of the day. This is done using the "Schedule" option in Focus, which allows you to turn on Focus for a specific period of time during the day and select the day on which you want to activate Focus. When you schedule a Focus routine for a certain amount of time, you actually prevent iOS from applying that Focus for the rest of the time.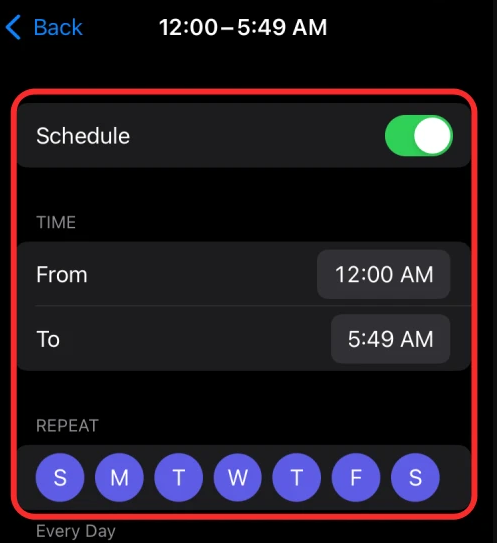 You can activate schedules for multiple periods of a day and multiple days of the week as you wish. The rest of the time, the selected Focus routine will be disabled.