If you want to know how to change apple id on iphone or on any device, this article is for you. Here Xabiamedia.com has included various ways you can change your Apple ID on all Apple devices (iPhone, iPad & Mac). Maybe you often use the same Apple ID on all your Apple Devices. And you may want to change your Apple ID for some of your devices.
Changing the ID, not only allows you to save files on different devices. But it will also help you maintain your privacy, besides that you can also manage apps, iCloud data, photos etc. Files that were on your previous Apple ID will not be deleted, some of the data will remain on your iPhone. For example, your phone contacts files, photos and calendar notes that you might have stored in iCloud will still be there.
What is an Apple ID ?
Your Apple ID is the account name you use to sign in to all your Apple devices. Without it, you won't be able to access certain Apple products and services like FaceTime, iCloud, and iMessage. Your Apple ID is also used to set up all of your subscriptions, use Find so you can locate your lost Apple device, download old purchases, and more.
How Do You Find Your Apple ID
If you don't remember your Apple ID, you can find it on any of your Apple devices by opening the Settings app from your home screen. Next, tap your name at the top of the screen; You will see your Apple ID under your name at the top of the next screen.
If you don't have an Apple device, you can also find your Apple ID by going to iforgot.apple.com and clicking look. You will be asked to enter your first and last name along with your email address. or visit the BacaBerita website for a complete tutorial on iPhone problems.
How To Change Apple ID On iPhone
If you have multiple Apple devices, you probably use one Apple ID to manage apps, iCloud accounts and more. But sometimes, to manage files some users choose to have more than one Apple ID. Especially those who have more than one apple device, for example iPad and Mac. Here's a simple guide to changing your Apple ID across all your devices.
It is necessary to understand first, that Apple ID is the main account for using Apple services. For example the App Store, iCloud, Apple Music and the iTunes Store. Apple ID can be said to be your identity on your iOS device or Mac, so it will tell which device is currently connected. If you already have an iCloud account, then you don't need to create a new Apple ID for iOS & Mac devices.
Xabiamedia.com has compiled this guide in great detail on how to manage an Apple ID account, Follow the steps below :
1. Switch to Another iCloud ID
To change your Apple ID, you must first sign out of your current Apple ID and sign in with a different one. However, this may cause you to lose your data, any Apple subscription, or the storage plan you purchased. So, make sure to back up your device on iCloud before signing out.
2. How to Change Apple ID On iPhone Manually
To change your Apple ID, open Settings and tap your name at the top of the screen. Then tap Sign Out, enter your password and choose whether to back up your data.
Open the Settings app. It's the gear-shaped icon on your home screen
Tap your name at the top of your screen. This is the button that says Apple ID, iCloud, iTunes & App Store
Scroll down and tap Sign Out
Enter your password and tap Close
Then choose whether to create a backup or not. If you choose to create a backup, it will copy your data to iCloud
Then tap Sign Out. In the popup box, tap Sign Out again to confirm the action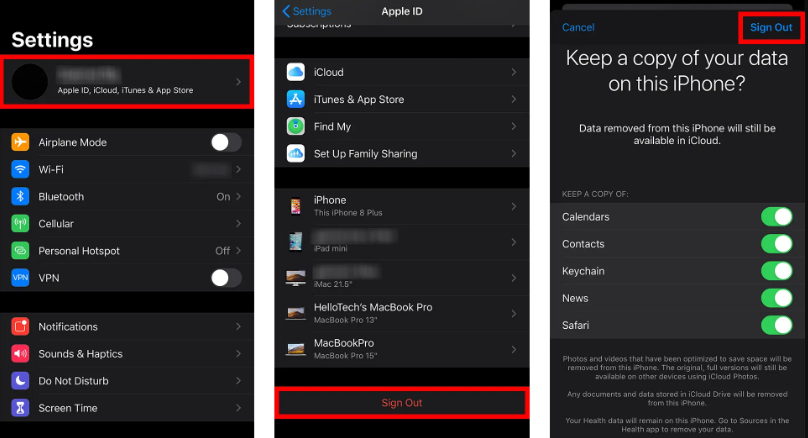 Then go back to the main page of the Settings app. You can do this by doing
Then tap Sign in. If you want to create a new Apple ID, continue to the next section
Finally, type your new Apple ID and password, then tap Next
Note : After signing in, you will be asked if you want to merge data from both Apple IDs. If you're only changing your Apple ID, tap Merge. If you are selling the device, you should tap Merge.
After signing in, go back to the main page of the Settings app and check if you have any notifications under Apple ID Suggestions. You may need to verify your email and update your Apple ID Settings. If you see any of these, tap them and follow the onscreen instructions.
How to Create a New Apple ID
After knowing how to change apple id on iPhone, now let's discuss how to create a new ID. If you're setting up your first Apple ID or creating a new one, go to Settings and tap Sign In on your iPhone. Then tap Don't have an Apple ID or forgot it. Enter your information and follow the onscreen instructions to create an Apple ID.
Open Settings and tap Sign in to your iPhone
Then tap on Don't have an Apple ID or forgot it
Then tap Create Apple ID in the drop-down menu
Enter your name and date of birth and tap Next
Then enter your e-mail address. You can also tap I don't have an email address to get a free iCloud email address that you can use as your Apple ID
Next, enter a password. This will be your Apple ID password, so be sure to choose a password you can remember
Tap Accept on the Terms and Conditions screen. Then tap Accept again in the drop-down menu to confirm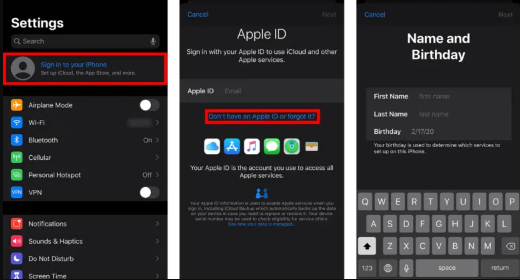 Solution
This snippet shows you how to change Apple ID on iPhone without losing data in detail. With FoneTool, you can safely transfer all data from one Apple ID to another. If you change both the Apple ID and your Apple device, it is highly recommended to erase the old iPhone and make the data unrecoverable to protect your privacy. Do not hesitate to contact us for more information or questions.